READY TO FEEL BETTER WHILE MAKING A COMMITMENT TO YOUR HEALTH?
REVIVAL WANTS TO REWARD YOU!
NUTRITION WELLNESS CHALLENGE
Trying to eat healthy can sometimes feel overwhelming. Sometimes the hardest step towards better nutrition is the first step. Nutrition challenges were developed to encourage clients and the community to take one step towards better nutrition. Common goals include increasing fruit and vegetable intake, increasing daily water consumption, increasing meal frequency, not eating after a certain time.
Pick a goal that you want to work towards, just be specific!
Changes to your nutrition can be big or small but the key is that these changes are something you could potentially maintain longterm. Before making any changes to your lifestyle it is important to consult your doctor to make sure it is safe to do so.
Challenges typically run for 1 month with registration occurring prior to the 1st of the month. Don't see a date you can commit to just yet? Check back for more wellness challenges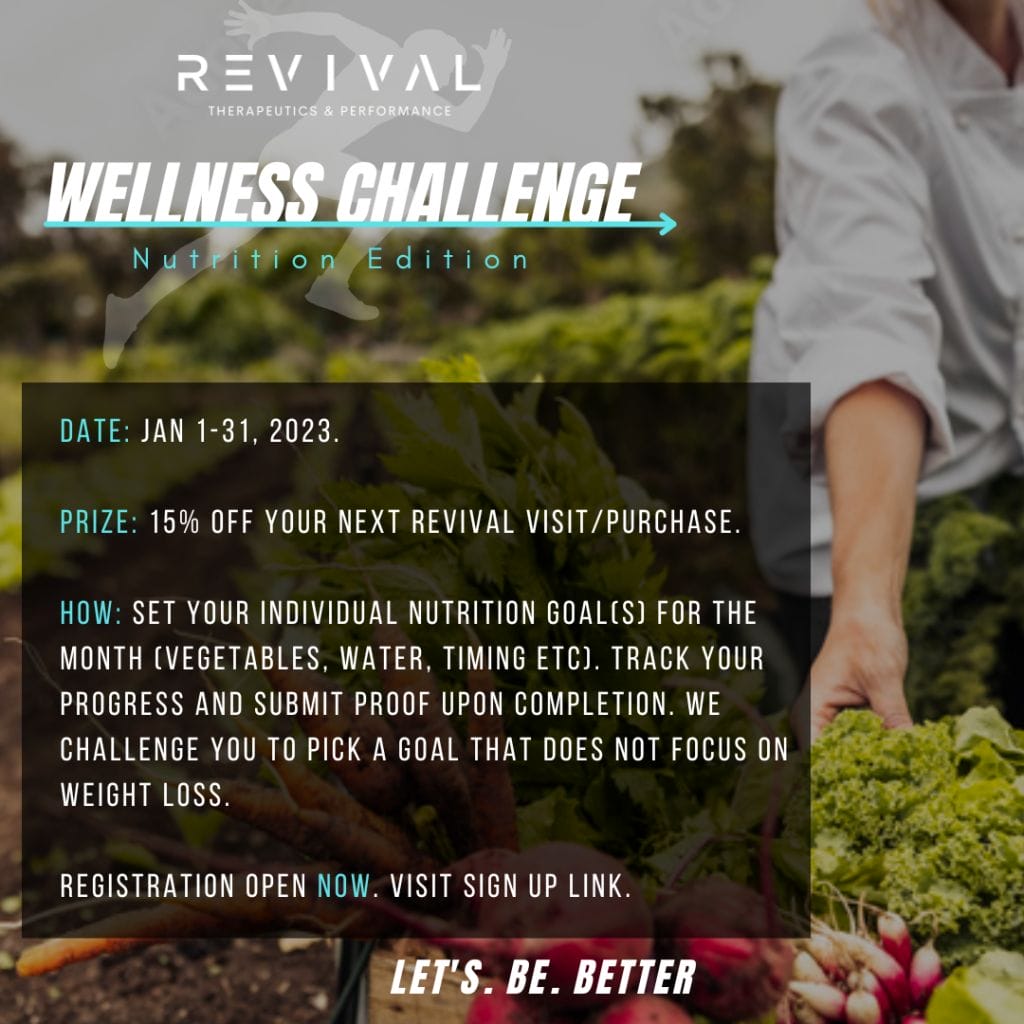 DON'T MISS OUT ON OUR NEXT CHALLENGE SIGN UP BELOW TO WIN AWARDS & DISCOUNTS!
MOVEMENT WELLNESS CHALLENGE
Movement challenges were developed to encourage clients and the community to be more active while supporting a culture that believes movement is medicine! By setting and achieving your goals you will feel empowered take an active role in your health. Whether you are not currently active, recovering from an injury or want to improve your performance, Revival wants to reward you for wanting more for your health.
Anyone can take part in a movement challenge! When most people hear the term physical activity they think of a workout or activity that is done to improve strength, flexibility, or endurance. However, active living includes physical activity that is a part of everyday life. All you need is a goal you want to accomplish.
Challenges typically run for 1 month with registration occurring prior to the 1st of the month. Don't see a date you can commit to just yet? Check back for more wellness challenges