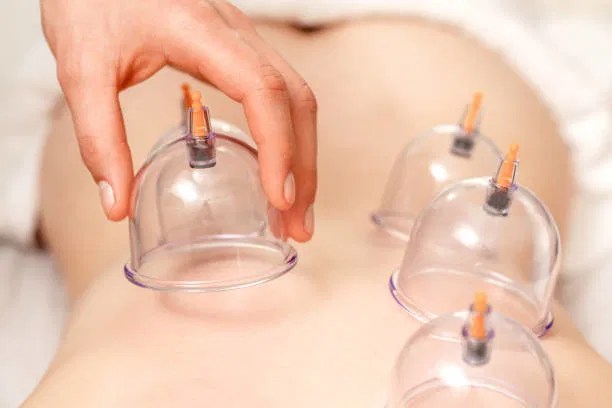 Cupping is a means of creating suction over the skin with a tool.  This causes a change in pressure under the cup and may facilitate healing and increased blood flow.  Cupping is proposed to cause muscle relaxation, changes in local tissue structures, increase in blood circulation and activation of the nervous system.
Blood contains very important properties that help with healing. By increasing blood flow, we can help speed up tissue recovery time. 
Types of Cupping Include:
Glass + Fire
Plastic Suction
Silicone Suction
Cupping Styles Can Include:
Dry & Wet cupping

Stationary cup
Movement of cup
Static cup with movement of body
Can Cupping Help With Your Pain?
Yes! When used with other therapy techniques, cupping can be a good addition to help stimulate the nervous system, reduce pain and stimulate healing.
Cupping Can Help With The Following Conditions:
Fatigue

Stress and anxiety 

Tight muscles

Tight fascia

High blood pressure

Decreased blood flow 

Damaged tissue 

Headaches 

Joint and muscle pain 

Overactive nervous system

Back and neck pain
Skin diseases such as acne and hives
Lowering cholesterol
Migraines
Knee arthritis
Improving immune function
Shingles
Facial Paralysis
Cough & dyspena
Lumber disc herniation
Cervical spondylosis